ECO Earth Sciences Inc.
Research based Environmental Solutions & Services
Patrick Kehoe, President/CEO
306-3370 South Service Rd. Burlington, ON L7N 3M6
We research, design, develop and integrate responsible and sustainable alternatives to existing practices and processes.
Our current research projects include; responsible alternatives to synthetic chemicals; the decontamination and purification of water sources in remote areas; new ground-breaking technologies for the remediation of contaminated soil and groundwater (CleanField™) and innovative solutions to address the infrastructure deficit for the emerging large EV & HEV transportation sector.
Currently we are focused on the greatest challenge any of us will face in our lifetime; SARS CoV-2 (Covid-19) As an organization we've made it our primary mission to assist however possible.
Innovative Thermodynamic Sterilization technology (Aquacide®) developed by ECO over 20 years ago, has been upgraded and repurposed and is now on the front lines in this crucial battle against SARS CoV-2 (Covid-19)
For over 20 years, innovative technologies developed by ECO have been used the world over by a variety of Organizations, The Military, Government Agencies, Municipalities, Education and many others.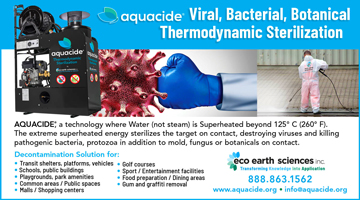 Across Canada
8am to 5pm - Monday to Friday