With Toronto's Phase 2, beginning on June 24th, restaurants are poised for opening dine-in patio service, but business will be nowhere near normal for our favourite city eats.
Restaurants are facing a summer of only patio dining and take out, cutting their normal guest capacity by 50 – 80 %.  With restaurants already closed for months, we can't expect that a few patio tables will save them.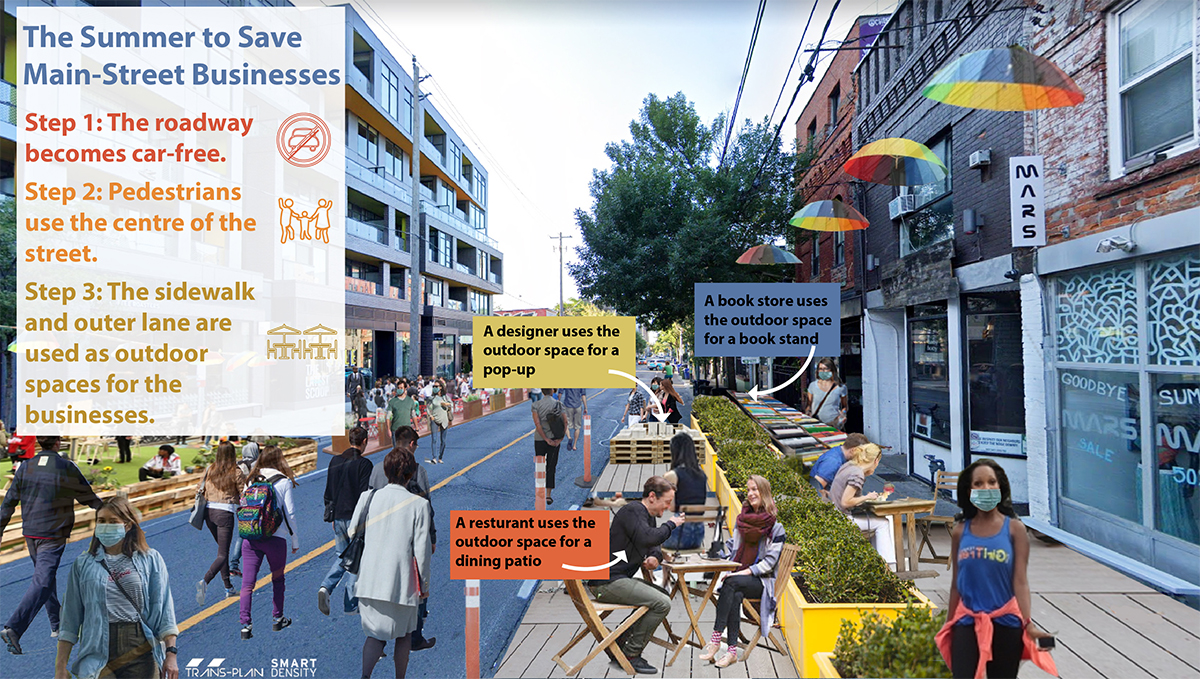 A plan that is bolder than CafeTO is needed," said architect and urban planner Naama Blonder, principal of Smart Density.
To support one of Toronto's favourite sectors, two local companies, Trans-Plan and Smart Density take a disruptive approach to CafeTO with "Summer to Save Restaurants." Expanding patio seating, and allowing access to lots of business storefronts would be created through pedestrian-only use of city streets, every Thursday to Sunday.
"We're in this together, and together we need to pivot to support each other make it through these difficult times. If that means we need to take some detours to help our restaurants out – I think that's what we should do," said Trans-Plan CEO Shadi Hagag. 
Toronto city officials, residents and tourists have the power to reconfigure and re-imagine local communities. 
"We are urban designers and transportation engineers who have opened up our creative toolbox to re-imagine our streetscape. It's not the normal configuration, because this is designed to be the Summer to Save Restaurants," said Smart Density architect, Naama Blonder. 
By redirecting pedestrian flow into the centre of the street, and enabling restaurants and storefronts to expand into the road – the plan encourages safe movement, service and experiences for all stakeholders. By limiting flow to only pedestrians, we mitigate the risk of confusion, flow disturbance and promote physical distancing.  And we bring back jobs and consumption to the economy.
 The Summer to Save Restaurants plan derives from the success of the King Street Pilot Project. For King Street, the priority was Transit – for the Summer to Save Restaurants Project – the priority is given to the Restanteur, the Customer and the Pedestrian.
Some cities have kicked off this idea early, encouraging both business owners and residents that safe experiences and business continuity can go hand in hand. The City of Guelph has pushed forward with making the downtown core pedestrian-only a few days a week, and St. Catherines too, has followed suit.
For support in ensuring your designs and plans can push forward, don't hesitate to reach out to Trans-Plan for temporary design and conceptual plans!