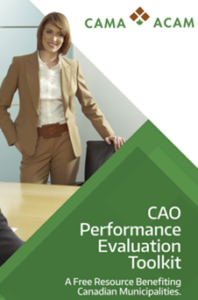 The Canadian Association of Municipal Administrators (CAMA) offers a three-step CAO Performance Evaluation Toolkit that will benefit municipalities across the country.
This toolkit will enhance the CAO/Council relationship and help local elected officials achieve their strategic goals and objectives. It is available for free to member and non-member municipalities.
An effective working partnership between Council and its CAO can be one of the most critical prerequisites for municipal success.
Local elected officials rely on their CAO to be the link between them and municipal operations; to implement the municipality's policies and programs; and, to help them achieve their strategic goals and objectives.
CAMA's Toolkit is designed to be a system that is flexible for the CAO, Mayor and Council. It's a tool that lets you construct an evaluation process based on what works for you and your organization. It offers a variety of ways to choose goals, set competencies, conduct your self-assessment, and have ongoing performance evaluation conversations. For CAOs, the toolkit provides a process that uses strategies and templates that can be shared with the Mayor and Council to ensure goals, key results, core competencies, and performance measures are mutually understood. For Mayor and Council, the Toolkit underscores the value of CAO performance conversations, and offers a process for conducting the performance evaluations fairly.
To access the Performance Evaluation Toolkit, click here. Our toolkit has a lot of gears and options that might, at first glance, make it appear to be dauntingly complicated. It's not! It's really a simple tool. CAMA is pleased to provide you with a webinar (approximately 20 minutes in length) that is designed to show you just how easy it is to use and how it can be customized and scaled to your municipality. The Frequently Asked Questions by Chief Administrative Officers document and the Frequently Asked Questions by Elected Officials document will also help navigate you through the toolkit.
Visit the CAMA website for all templates and information on this toolkit.