The past few months have been challenging for us all, personally and professionally. Summer is here and, as restrictions are being lifted, it is the perfect time to get outside, shake off the cobwebs and have some summer fun! Here's a look at some fun, socially distanced activities to kick back and relax this season.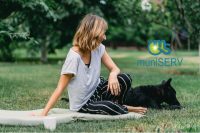 Visit a Provincial Park
With most provincial parks reopen, this is a great way to get active and get outside. Discover new hiking trails, find hidden beaches or a great new fishing spot all while getting fresh air. While not all amenities are currently available, park staff are actively working as quickly as they can to open as many facilities and services as possible for the season.
Pack a Picnic
Many municipalities' public parks are now open to explore and have a family picnic on the green spaces (as many roofed shelters may still remain closed). Packing a special meal from home or getting takeout from a local restaurant is a great way to enjoy family and friends while social distancing. Don't forget to bring a blanket to sit on!
Hike a New Trail
Many of the local trails are open for walking, hiking, and even biking as well. This is a great opportunity to find a new local/regional trail that you haven't explored before!
Fruit and Vegetable Picking
Another summer staple is picking your own seasonal fruits and vegetables. This is a great way to get the entire family outside and have fun. Many of these farms offering these services have put measures into place to ensure the safety of their staff and visitors. Some farms now require an online booking beforehand and are monitoring entry and exits to keep numbers within the provincial limits. PickYourOwn.org has compiled a list of places in Ontario that are offering different fruit and vegetable picking this season (https://www.pickyourown.org/CNON.htm ). It is always a good idea to contact the farm before you head out to avoid disappointment.
Backyard Campout
If you are not ready to camp at a provincial park, why not set up the ultimate backyard campout? Pitch a tent, start a campfire, (check on any local fire bans first), then make some s'mores, play games, project a movie … all while have a night outdoors under the stars. The best part of camping in the backyard is that everything you need is still right inside. No need to worry about closed amenities!
Watch as more restrictions are lifted for even more fun and safe ways to enjoy your summer!