Welcome to

Helping You Drive Your Team's Success!
Our New e-Learning portal will make essential and critical training courses available to your staff – all delivered digitally to their desktops, at measurable cost savings for municipalities.
Introducing Customized Training Development! Why not collaborate with your municipal neighbours and have us develop the customized training you need for specific topics?
Public Works
Information and Data Management
Managing Council Expectations
Contact our training specialists for a discussion on your needs. It's your platform!
Fees
Number of Employees

Fee

1 to 20
$1,500 flat rate
21 to 50

$1,500 for the first 20 employees
$65 per additional employee

51 to 100

$3,450 for the first 50 employees
$50 per additional employee

101 to 150

$5,950 for the first 100 employees
$30 per additional employee
*Call for pricing for more than 150 employees.
**All fees are in Canadian dollars.
How do you rate?
Our

Assessment Samplers

help you understand how assessments fit as a development tool for your team.
Get started with a test drive of our complimentary, Sampler Assessments below.
See the types of Competencies Measured in these 3 Assessments
But, that's not all!
You'll receive a complementary, personalized report and micro debrief from a Professional Certified Coach to help you understand the assessment you've taken – no strings attached!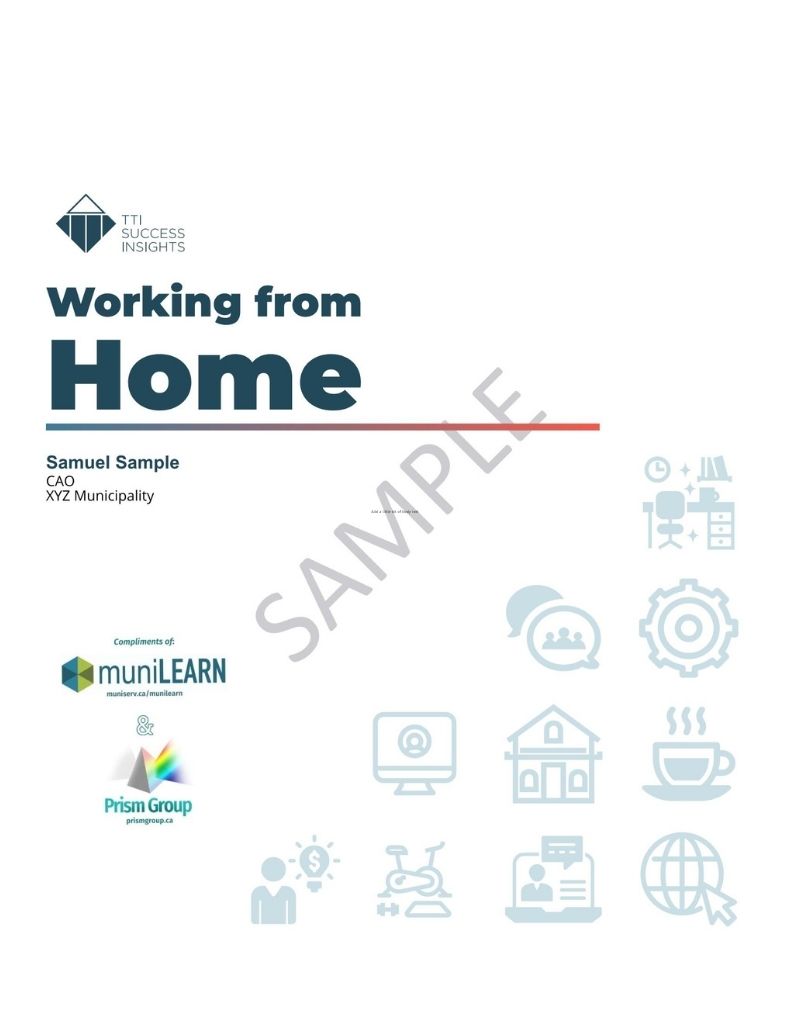 Take the Working From Home Assessment
This is your opportunity to learn the best way to adapt to working from home, for yourself and those around you.
Allow approximately 10 minutes to complete the assessment. This assessment can be taken by any number of members of your team.
Learn more about the Working From Home assessment.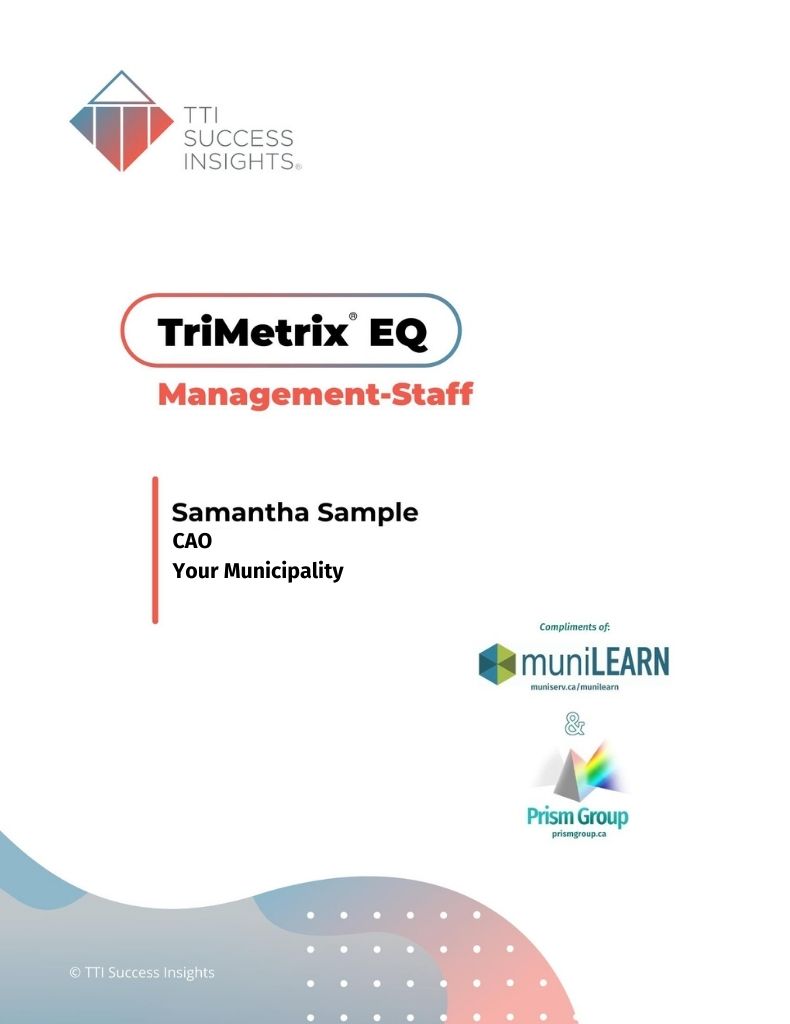 Take the TriMetrix® EQ Assessment
The insights revealed by TriMetrix EQ are particularly effective for developing talent.
This combination of sciences; behaviours, driving forces & emotional intelligence, helps organizations get a clear picture of their staff. You will truly understand what makes someone who they are, through understanding their motivators, their daily behaviour, and their emotional intelligence.
This assessment is a "sampler" to help you understand how to use it as a development tool for your municipal team. Learn more about this assessment.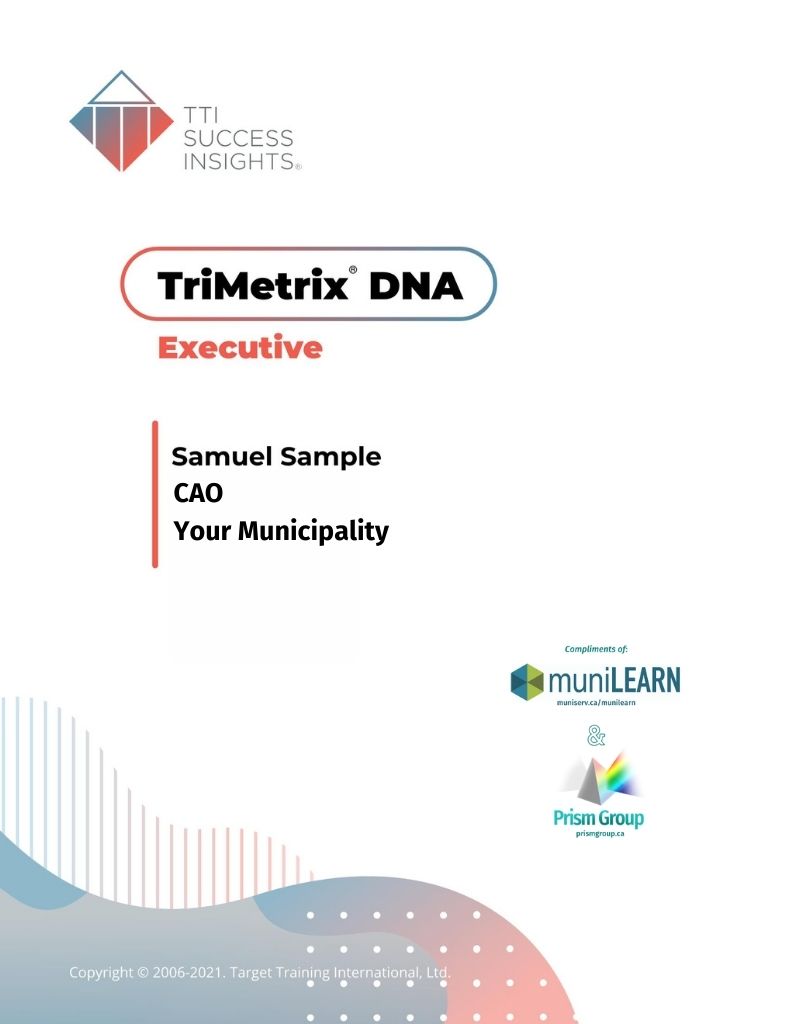 Take the TriMetrix® DNA Assessment
As a triple-science assessment, TriMetrix® DNA provides you with three perspectives to understand your behavioural style (HOW you prefer to behave and communicate), your personal motivators or driving forces (WHY you move into action), and your competencies (WHICH competencies you have mastered).
This assessment is a "sampler" to help you understand how to use it as a development tool for your municipal team.
Learn more about this assessment.
Digital Solutions & Certifications
For Today's Fast-Paced Environments
muniLEARN provides a variety of powerful learning programs and certifications delivered digitally, to ensure your investment in training is aligned with today's expectations for your people and your organization.
Our world has changed.
What will be Your strategy for dealing with change?
Digital Training
Shrinking training budgets?
Get more for your money. We have the solution.
With muniLEARN you can choose from hundreds of digital training for your team, such as;
AODA, Microsoft Office, Disaster Recovery, Health & Wellness, Hiring for Success, Preventing Violence in the Workplace, Team Building, Talent Management, Workplace Harassment, and so much more …..
Pricing starts as low as $99/course but bulk pricing is available for even more savings! Ask Us Today!
New! Foundations e-Course Library
Go For Your Goals e-Course
FINALLY! The little-known method for *really* achieving your goals. If you've struggled to realize your biggest dreams…or if you've started to think that you're just not the kind of person who can reliably set and achieve big goals…it's not your fault.
What you need is a COMPLETE system — one that enables you to choose inspiring goals, stoke your momentum, maintain your motivation, and persist until you attain your dreams.
This course is relatively short — just five lessons — but it teaches everything you need to set and achieve your biggest, most audacious goals. Don't forget to use your muniSERV Affiliate Coupon Code: muniLEARN10.
Professional Certifications
Internationally accredited professional certifications delivered digitally ensure your people have real certifications supporting your organization and your investment in training. muniLEARN offers dynamic, interactive and internationally accredited online courses in Project Management, Change Management, Financial Management, Risk Management and Service Management. Learn More
New! Workplace Competency e-Course Library
Personal Accountability e-Course
There are a wide variety of workplace skills personal skills you can develop, but of them, Personal Accountability is one of the most significant ones that will contribute to your career success.
This course answers, "What is Personal Accountability?" and "Why is it so important?".
The course also includes three (3) email consultations from your personal coach, to ensure understanding – all included in the course price of just $149
PLUS – muniSERV members get a 10% discount! Use the Affiliate Coupon Code: muniLEARN10
Check out the E-Course Library
Watch for the Wellness & Personal Effectiveness Library e-Courses Coming Soon!
Our Learning Partners
Discover The Expertise of Our Learning Partners
Direct access to a variety of innovative digital learning management solutions for today's modern organizations. We've scoured the continent to find valuable learning partners with incredible timesaving products and services for you with special value pricing only for muniSERV members!
Not a muniSERV member? Municipalities can join for free!
Burgess And Associates

Bylaw and Animal Control Officer Accreditation and Certification, Conflict Avoidance Training

Burgess And Associates is a leading edge training company
for Bylaw Enforcement Officer accreditation and approved/vetted Conflict Avoidance Training courses.
Our 25 years' experience and recognized Subject Matter Experts on staff combine to give your Municipality the highest quality, vetted training available today.
muniSERV Members receive a bonus module for online courses (ask us for details), and volume discounts for all our courses!

MotherClock
Payroll is complicated!
We make it simple.
Simplify and modernize your employee time tracking and payroll management process with MotherClock.
muniSERV Members receive a free tablet, installation and training with the purchase of a 12-month Essentials or Professional plan.
Ripple
Start Ripples of Open and Honest Feedback, within Your Teams, Today
We've lived through the old ways of evaluating workplace performance and employee interaction. Now we're changing them for the better by ditching the dreaded annual review.
You can gather timely, meaningful, anonymous data from your workplace colleagues to facilitate employee engagement and drive self-awareness.
Get 50% off your first three months subscription (that's $2.50/month/user) to get valuable feedback from your work-at-home employees. muniSERV Members receive a 15% discount off their first-year subscription!
Prism Group
The People Solution
Leaders like you often get frustrated because their teams are not as cohesive as they would like and traditional training programs aren't developing the competencies required for success in a role.
Imagine for a moment what your organization would look like if you had a proven system to select the right people for any position and you had an objective way to pinpoint development needs and provide targeted development solutions, in a cost-effective manner.
muniSERV Members receive a 10% discount off of the standard pricing!