Content Marketing is gaining in popularity and those that once said, "I don't have time", are now weighing the time commitment against the benefits. All for good reason, Content Marketing works, but you need to start with an organized foundation. This brings us back to the overly discussed and often misunderstood, Search Engine Optimization, more specifically, keyword optimization.
Before you spread your valuable content all over the internet, understand that Google Search's sole focus is to bring the best possible results to its users. Google doesn't comprehend your content, it simply connects the words, and all words are not created equal. If a searcher is looking for cereal, Google will bring back results that contain the word cereal, not oatmeal, cheerios, formula or Kellog's, just cereal.
When planning and preparing your content, know your keywords and work to provide Google with a clear and concise path to your website's content, blogs, images, videos, etc.
Content Marketing and Key Words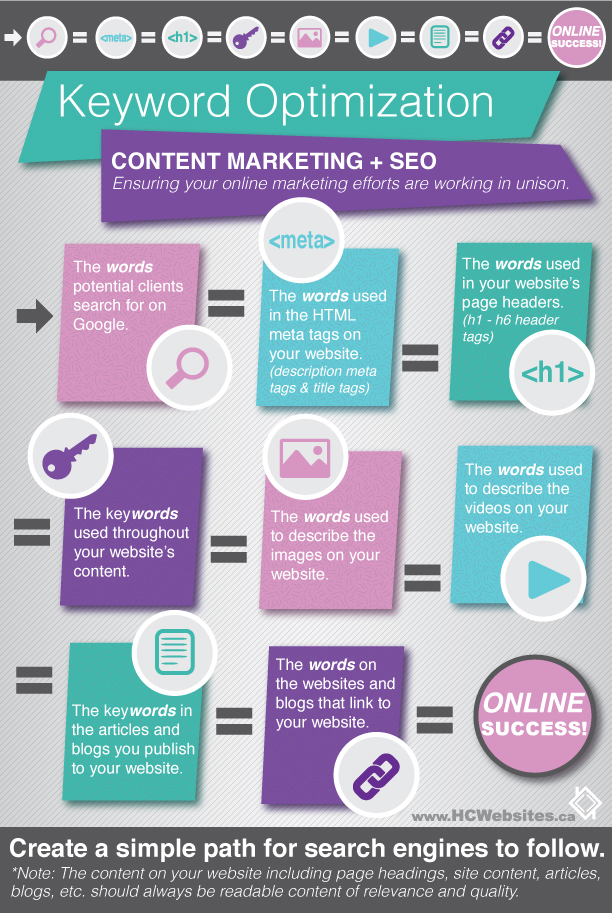 Home Cooked Website Solutions Inc. is a full-service marketing company located in Ontario serving Midland, Penetanguishene, Barrie, Orillia, Parry Sound, Toronto, and surrounding areas.