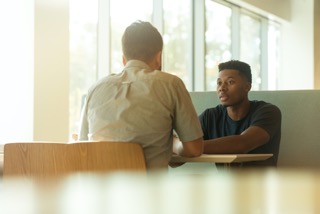 Have you ever heard the words, "Watch your tone!"?
Are you sending the right message?
Are people hearing what you mean to say or are they only hearing how you say it?
In our last blog we looked at how our facial expressions communicate. (https://www.linkedin.com/pulse/working-improving-your-communication-watch-what-you-dont-ed-heinrichs/)
In this article we will look at Paralinguistics and how they can help or hinder our communication.
Pitch: Does your voice tend to go up if you are nervous or angry? You can develop the ability to control the pitch of your voice to maximize effective communication.
Each of us are able to speak within a vocal range, and vary the pitch. This ranges from the higher, nasal tones to the richer resonant tones that come from within the chest. Many studies indicate that speaking from the lower range instills greater confidence in the listener.
Pace: Are you speaking at a reasonable rate or does it sound rushed? Are you slowing down or
pausing at appropriate points in your presentation? Reserving the increased pace to bring additional
energy and suggest passion will enhance your speech.
Are you intentionally adding moments of silence? These pauses can be as powerful as the
words spoken. Think of the rests between the notes in a piece of music.
Volume: What do we do when someone whispers? We instinctively lean in to hear what is being
said. A whisper can be amazingly powerful since it connotes a secret or special knowledge.
How can you use this as a way to draw in the audience?
Timbre: Timbre refers to the quality of the sound as it is perceived by the listener. It is often
used to describe musical instruments and is distinct from pitch or volume. As an example, compare
Kermit the Frog's voice to the voice of Morgan Freeman.
Are you using 'upspeak' and is it undermining your communication? Raising the voice at the end
of a sentence can transform a statement into a question.
The Power of Prosody! This is the application of all these elements into engaging and effective
communication. Dreary dull, unvaried or monotonous delivery of what could be great content is
going to effectively undermine the entire presentation. A varied, energetic tone can serve to effectively
help communicate ideas.
Remember when you were told to "Watch your tone!"? Those are words worth paying attention to.
What is the next right step in your ascent toward your communication advantage?
We are here to help you succeed.
NB: For a more in-depth consideration of this topic check out:
https://www.scientificamerican.com/article/how-paralinguistic-cues-can-help-you-to-persuade2/