Municipalities have reported two (2) main pain points when it comes to managing their learning and development programs:
They are tired of tracking Learning & Development on a spreadsheet and they would you like to have an LMS but they are cost-prohibitive for their municipality,
Sourcing training content to populate their LMS is difficult and time-consuming, not to mention expensive
Learning Management Systems (LMS)
A Learning Management System (LMS) is a software application to help organizations manage the administration, documentation, tracking, training, reporting of their Learners. The main benefits of an LMS are to reduce the time, effort and cost of your training program while offering deeper insight into your Learner's experience, compliance and progress.
With an LMS, you can assign training to your team to; a) grow the leaders of tomorrow (succession planning), b) for annual compliance training, c) for new hire onboarding or d) improve the job skills of employees in your organization. 
Not every municipality is the same so not everyone has the same needs when it comes to an LMS.  That's why any LMS must offer a wide range of functionality to address individual municipal circumstances and the provider must be available to provide support and guidance along the way.
Learning Content
When organizations purchase their own LMS, the first step they need to do is upload training content into the LMS – and municipalities already know that it's difficult and time consuming to source quality courses. But, then once they've found the training content they will need their IT or the LMS provider to upload it for them.  This increases costs and results in time delays in getting their training started.
A Learning Management Solution for Municipalities
muniLEARN is a collaborative learning management solution provided by muniSERV.ca, in partnership with Orion Learning. It saves municipalities money, improves  learning effectiveness, and helps them implement a safe, secure, collaborative learning solution across their municipality.
Here's how:
muniLEARN has three components:
A state-of-the-art, robust, secure, subscription-based learning management system (LMS)
Access to a content marketplace of over 900 accredited, competency-based learning courses, programs and certification exams
Expertise to help you transform your learning and development program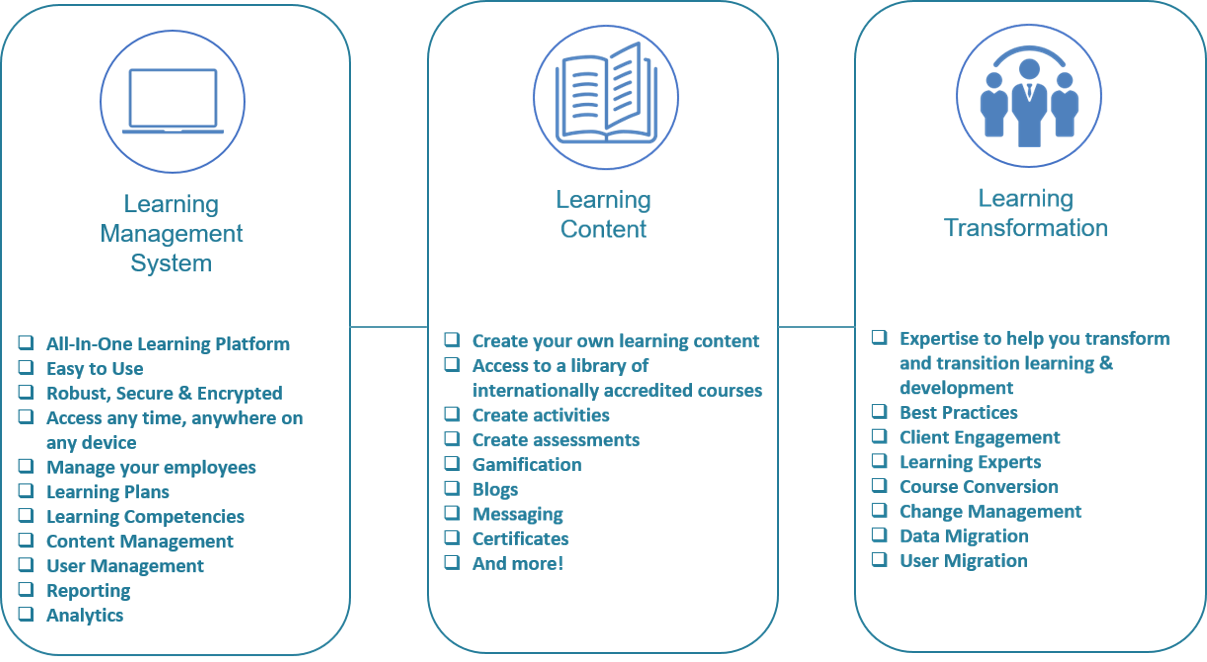 Learning Management System – muniLEARN's LMS comes with a full range of functionality already, but it is also customizable to suit individual needs.
Learning Content – With muniLEARN you have immediate access to our learning marketplace of over 900 accredited competency-based learning courses, programs and certification exams. We have sourced the best competency based learning courses from some of the world's best content authors to provide you with an off-the-shelf content solution you can access directly or integrate it into your own learning programs. All of our courses are accredited by internationally recognized accreditation bodies including PMI, AXELOS, APMG International, ISSA, APM and ISTQB. We show you the accreditation agency on the accredited courses and your learners will receive certificates on successful completion of the exam.
Learning Transformation – muniLEARN has the expertise available to help guide municipalities through the transformation of their learning and development programs.
muniLEARN Pilot Program
If you're not sure how muniLEARN will work for your municipality, we'll give you a month to try it out!  Our muniLEARN Pilot program gives municipalities a test drive of the muniLEARN solution and the opportunity to experience using an LMS and digital learning.
Contact us today at [email protected] to learn more and discuss your learning and training needs!