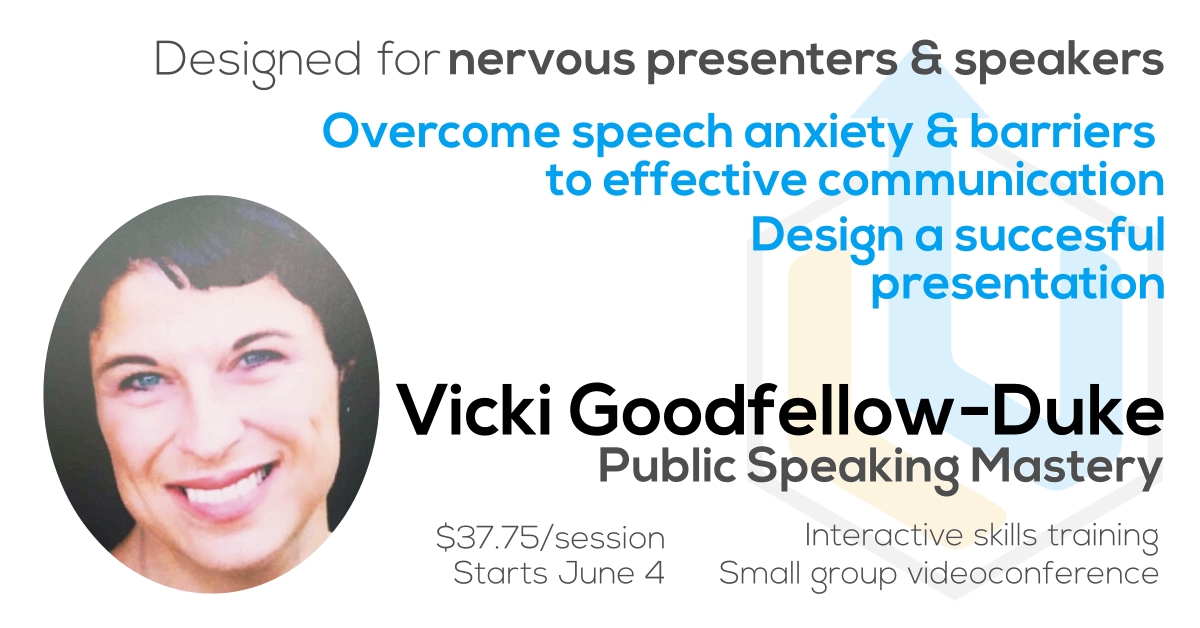 Vicki Goodfellow Duke is a professional public speaking coach, and has been teaching Public Speaking, and Rhetoric at Mount Royal University since 1991. She was a National Examiner for Speech and Drama for The Royal Conservatory of Toronto from 1996 to 2001.
In Vicki's Accelerator Group, you will learn and practice: how to overcome speech anxiety, how to overcome barriers to effective communication, how to design a successful presentation, and how to use PowerPoint effectively.
Starts June 4. $37.75/session.  Please note the time below is MDT
Max 8 people per group. Don't miss out – sign up today at: https://levellingup.ca/sages/vicki-goodfellow-duke/
LevellingUp's unique approach to skills development bridges the gap between knowing HOW TO do something, and EXPERTLY PERFORMING that skill. At least 40% of Fortune 500 CEOs have an executive coach – why not you?
Receive feedback from a proven expert as you put knowledge into practice. Rapidly grow your skills, gain experience & confidence. Discover your true potential.
The experts you want. The skills you need. No one standing in your way.
Learn More & Register
www.LevellingUp.ca
@Vicki Goodfellow-Duke
#LevellingUp #PeopleHelpingPeople #LevelUp #Leadership #Goals