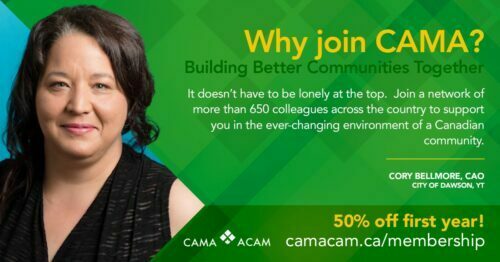 WHY JOIN CAMA?
Would you like to have 650 friends across the country that share the same experiences as you regardless of the size of their community? Join the Canadian Association of Municipal Administrators (CAMA). CAMA is the national Association for local government managers – the equivalent to the Federation of Canadian Municipalities (FCM) for your elected officials.
CAMA hosts an Annual Conference, produces free webinars for you and your staff, an e-brief newsletter, job posting services and a host of other services meant to help us do a better job each and every day. CAMA is very focused on the role of the CAO/City Manager and other senior managers from all size municipalities and provides an amazing network from coast to coast.
We have a number of practical toolkits tailored to municipal administrators: CAO Performance Evaluation Toolkit; Political Acumen Toolkit for CAOs, Direct Reports/Aspiring CAOs, and Elected Officials; Council Orientation Toolkit, Members in Transition Toolkit, CAO Employment Contract Toolkit, Toolkit for Effective CAOs – The Right Questions to Ask – just to name a few.
To join complete the on-line registration form. The membership fee for the primary member is based on the population of your municipality and as a special offer for new members, you will receive 50% off our already great value membership fees for the first year! The second and each additional member can join for $150.00 so why not encourage some of your direct reports too. All membership information can be found on our website.