Public Sector Leadership Series
June 23 @ 8:45 am

-

3:15 pm

EDT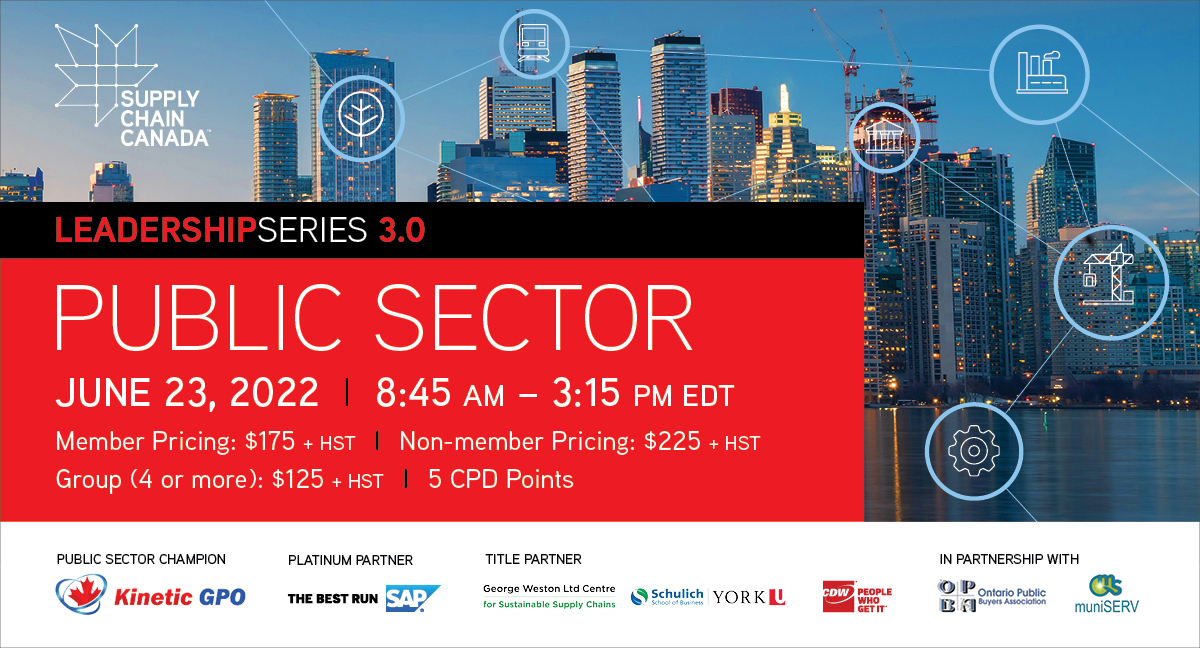 Date: June 23, 2022
Registration Deadline: June 21, 2022
Public Sector has experienced more changes than ever in the past two years. And supply chain in the public sector has been evolving ever since. We have been leading public sector focused initiatives since the beginning of 2020 and this 1-Day event amplifies some of the pertinent issues that are impacting public sector decisions today such as procurement's influence on organization effectiveness, move towards digital procurement, sustainable procurement, , the importance of supplier diversity, and more.
Speakers from last year include organizations such as City of Toronto, Metrolinx, City of Vancouver, NIGP, UHN, York Region Police, OECM, City of Ottawa, Treasury Board Secretariat of Canada, GTAA, HP Canada, Ministry of Transportation Ontario, Transport Canada and more. Frank Rochon, CEO of Supply Ontario also delivered his keynote speech, which you can watch here.
Some of the topics covered included:
Procurement's Influence on Organizational Effectiveness
How have Government Agencies Dealt and Learnt from COVID: Improving Citizen Experience
Sustainable Procurement
Sustainable Goods Movement
Impact of Trade Agreements/Trade Agreements in a COVID world
TOPICS TO BE ADDRESSED AT THE UPCOMING EVENT INCLUDES: Digital Procurement I Data-driven Transformation I Supplier Diversity I Sustainability & ESG I Indigenous Procurement
Here's the agenda and speakers for Leadership Series 3.0: Public Sector. Join us: https://lnkd.in/e4Th4C38
We are delighted to have Clinton Lawrence-Whyte, Director General, Procurement Assistance Canada, Public Services and Procurement Canada | Services publics et Approvisionnement Canada and Nick Xenos, Executive Director, Centre for Greening Government, Treasury Board of Canada Secretariat | Secrétariat du Conseil du Trésor du Canada as our first set of confirmed speakers.
The agenda for the day includes:
Leadership Panel: Reshaping Public Sector Supply Chain and Procurement by Balancing People, Processes & Technology
Ethical & Social Procurement: Leading on Social Value to Foster Economic, Social, and Environmental Well-Being
Circularity and Net Zero: Making Circular Economy a Reality
Vendor Performance Management: Drive Better Value, Better Performance and Lower Costs 
Indigenous Procurement: Best Practices and Lessons Learned
Sign up for more information on this event.
For registration enquiries: Katie Cheshire at [email protected]
For sponsorship enquiries: Kim Sforza at [email protected]