The month of May and early June has brought forth some innovative change – which some would see as long overdue. Toronto Mayor John Tory unveiled a plan to open more space for pedestrians and cyclists in congested areas as the province begins to reopen its doors in a post-COVID-19 world.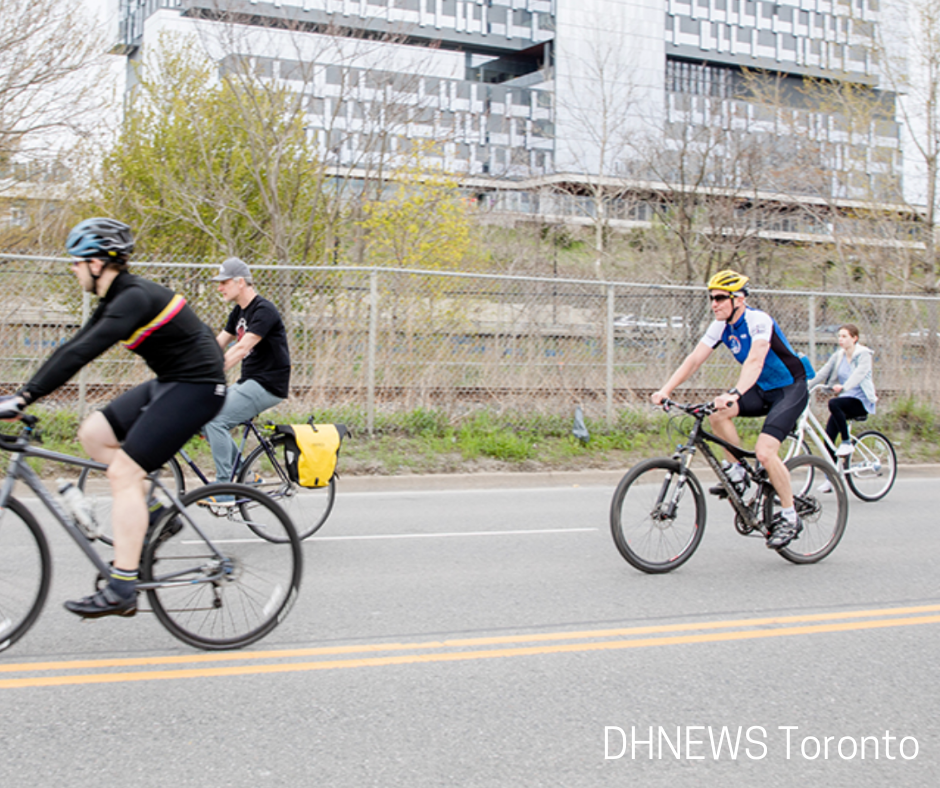 The ActiveTO initiative set its aim on closing select major roads to car traffic in exchange for more room for walking and cycling. Additionally, the city plans to expand bicycle lane infrastructure and introduce traffic calming measures in local neighbourhoods to enhance the safety of pedestrians and cyclists. The city has now allocated 65 kilometres of quiet streets among 32 neighbourhoods. Some of us have already experienced these changes and felt their positive impact. 
It has become an inevitable realization for municipalities that residents are becoming eager to flock outdoors as the weather warms and the number of active COVID-19 cases gradually declines. The question now becomes not how cities can keep people inside, but how communities can strategically redesign their infrastructure to allow residents to get outside while continuing to safely obey social distancing measures. 
Each municipality will have unique challenges when reopening, and the proper planning of municipal infrastructure is critical. Although there is no cookie-cutter answer for the temporary redesign of city roads, there have already been successful initiatives taken by municipalities as they rethink their streets in anticipation of the return to regular life. 
Extending Bicycle Infrastructure
Cycling has become an increasingly popular mode of transportation for residents during the pandemic. It offers a chance for people to exercise and make local trips to essential locations, all while maintaining a safe social distance from other users. The World Health Organization has encouraged people to walk or cycle whenever possible. Experts boast that 30-60 minutes of physical activity per day can boost your immune system and help keep viruses at bay. Along with Toronto, many cities are moving towards implementing additional cycling infrastructure during this time. 
In Canada, Vancouver, Calgary, and Winnipeg have each allocated over 15 kilometres of additional bike lanes throughout their neighbourhoods since the beginning of the pandemic. In Philadelphia, cycling trips have increased by more than 150% and public bike-share programs across North America are experiencing a steep increase in users over the past month. People who usually rely on public transportation are finding cycling to be a safer alternative that allows them to avoid crowded buses and subways.
Expanding Sidewalks 
With the decrease in vehicle traffic as a result of the closure of many businesses and services, cities have opted to provide temporary walkways extending onto streets to allow residents to maintain an appropriate distance from one another. Montreal's Plateau Mont-Royal borough has introduced family and active streets – a campaign that closes select local streets to through traffic to make room for pedestrians to roam freely. New York City Mayor Bill De Blasio recently announced the opening of 40 miles worth of open streets throughout May.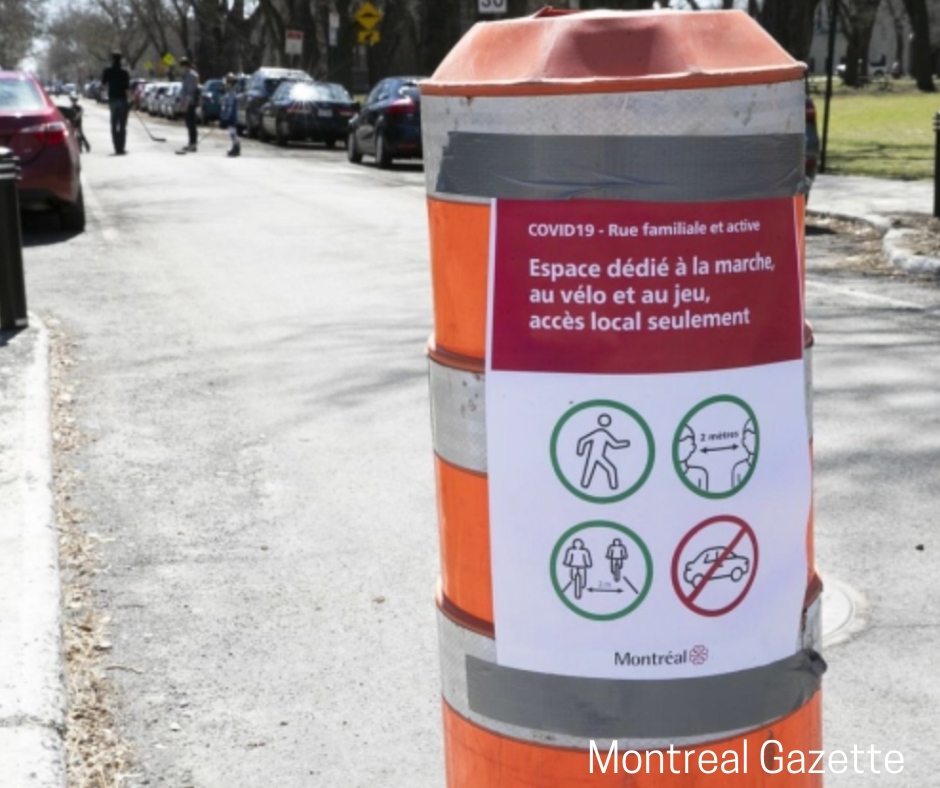 Smaller cities have also been quick to answer the call to reorganize their communities. Kitchener has installed temporary bollards to extend sidewalks along the city's main street to allow for more room for physical distancing. Drummondville has closed its Curé-Marchand bridge to all motorized vehicles, and St. Johns has decided to widen the sidewalks of high-volume streets to open up more space for pedestrians and cyclists.
One-Way Sidewalks, Eliminating Beg Buttons, and More
Aside from the large-scale infrastructure adjustments that are occurring, some cities are looking towards more creative solutions to help curb the community spread of the COVID-19 virus. Sections of sidewalk along Highbury Avenue in London, Ontario have been converted into one-way walkways where it has been difficult to maintain a 2-meter buffer from others.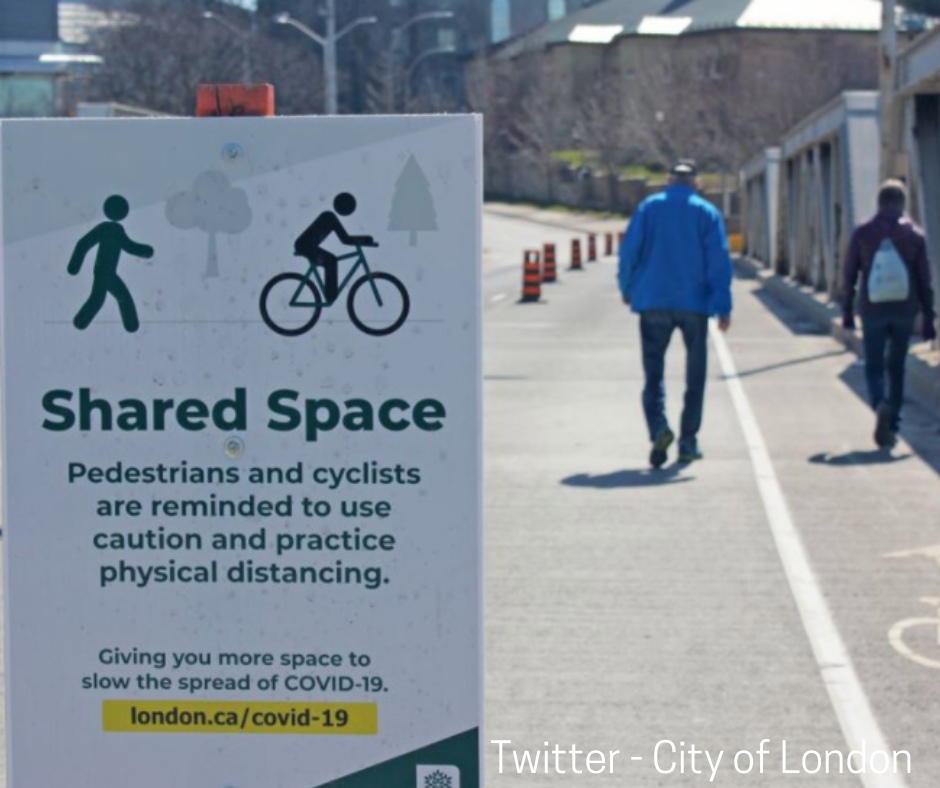 Places such as Calgary, Edmonton, and Hamilton have eliminated beg buttons at crosswalks and intersections. These cities have completely automated their signal cycles at intersections so that pedestrians can avoid pressing frequently touched buttons if they want to cross a street. Places like Boston, Portland, and New York City are offering free bike-share memberships for health care workers and other essential labourers. Additionally, Calgary is choosing to not advertise streets where they have extended sidewalks and bicycle lanes to not attract crowds in these areas. 
Take Action
The initial fear that creating more space for alternative forms of transportation would create problems of overcrowding seems to have subsided among a majority of city officials. As cities worldwide begin to roll-out post-COVID-19 mobility plans, it is undeniable that more residents will be outside for essential trips and exercise. Instead of eliminating space for movement, cities must restructure themselves to allocate enough space for its residents to move freely and safely.
As we see staged reopening within Ontario, consider reimagining your urban spaces, shared spaces and hot spots within your neighbourhoods. Offering residents the chance to get involved in the conversation whether it be through social media, online public platforms, or email can encourage those measures in place, are enjoyed and followed.  
Trans-Plan is committed to helping aid your community in its gradual reopening. Our COVID-19 Temporary Planning Services integrate professional engineering expertise and proprietary modeling capability to assist in providing innovative services for disaster-ready plans. We offer customized redesign plans for temporary conditions.
Written By: Trans-Plan team member – Ryan McClelland