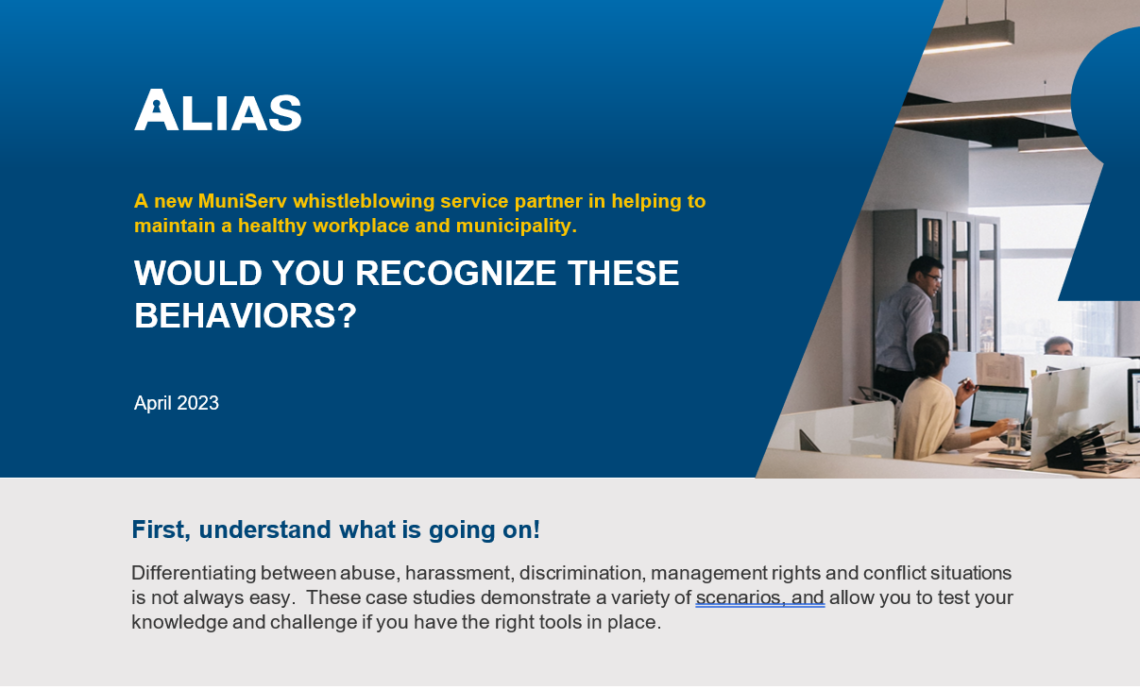 A new MuniServ whistleblowing service partner in helping to maintain a healthy workplace and municipality.
WOULD YOU RECOGNIZE THESE BEHAVIORS?
First, understand what is going on!
Differentiating between abuse, harassment, discrimination management rights and conflict situations is not always easy. These case studies demonstrate a variety of scenarios, and allow you to test your knowledge and challenge if you have the right tools in place.
---
Jade's story
Jade is back at work after an absence of a few months. She preferred not to inform her colleagues and supervisor of the reason for her absence. However, she knows that rumours are circulating that she was depressed following her break-up with her partner. Since her return, her manager has given her routine administrative tasks and has told her regularly that she does not want Jade to get sick again. 
A new project has just been accepted and Jade's entire team needs to be involved.  It's an exciting project and Jade suggested to her manager and team members that they become actively involved. Her manager met with her and told her that she would prefer that Jade not be involved in the project. One of her colleagues also told her that it was probably best for Jade to stick to her regular duties. What do you think is happening?
This is a situation of discrimination.
Mary's story
Mary works for the Municipality and has begun working from home full-time since the pandemic.  Mary's spouse has become verbally and physically abusive and to the point that Mary is afraid for her safety and the safety of her children.  Over the past three months, the situation has been getting worse.  Mary has been unsure of where to turn.
Is this a workplace issue, a domestic issue, or both? What should be done?
This is a situation of harassment and abuse.  As Mary works from home, this situation involves the workplace.  If the city has a whistleblower line that covers domestic violence, Mary can report this and and the municipality can provide her support based on predetermined tools (such as those provided by Alias).
Brian and John's story
Brian and John work together at the municipality in administration.  Brian oversees city maintenance. Brian recently bragged about how he gets the city maintenance team to do the landscaping at his own house as part of their route.  Brian and John are friends, but Brian knows that this is wrong and a misuse of city funds and resources.  Brian doesn't want to disrupt the relationship with John and is unsure what to do.
What do you think is going on? What should Brian do?
This is a fraud situation.  Brian should use the whistleblower line to report this.
---
Communicating inappropriate conduct helps maintain a healthy work environment.
Several options are available:
Talk to your manager

Notify Human Resources

Talk to the person committing the inappropriate behaviour

Make a report through the whistleblowing service
The ALIAS Reporting Mechanism (whistleblower program) is an external tool that your municipality can consider as a service to promote a healthy workplace and a city free from harassment, abuse, fraud and to ensure sound and efficient governance.
For more information, please reach out to Danny Weill, EVP, Alias at:
[email protected] or 416-606-8209