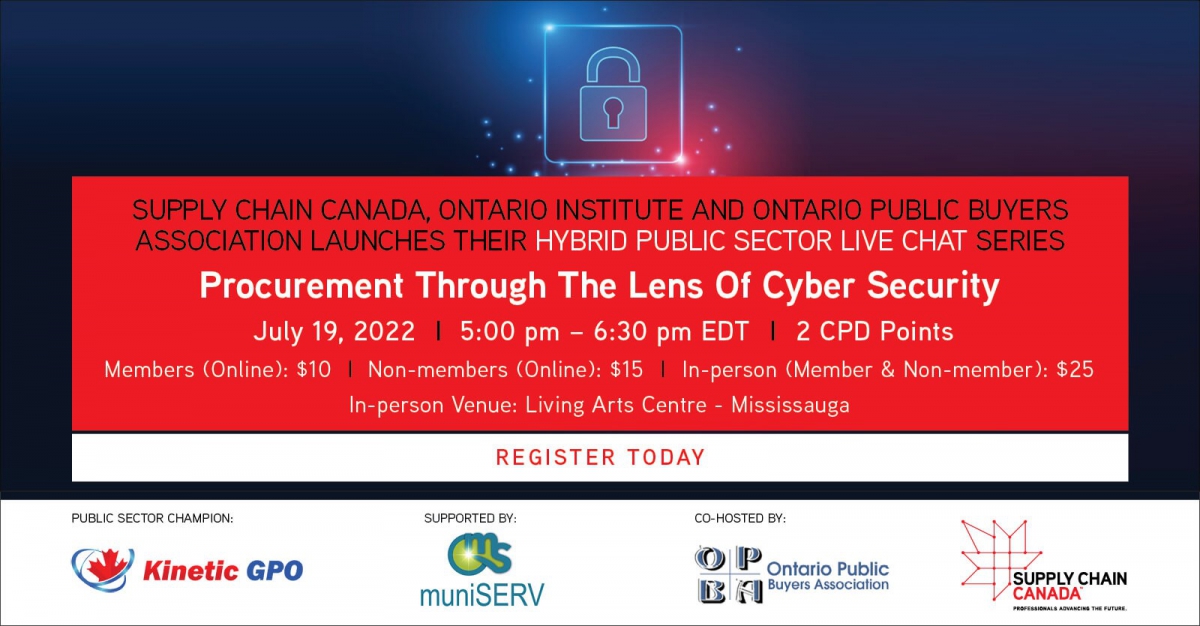 DESCRIPTION
Join our discussion as we explore how current increased cyber risks have demanded increased awareness, and consideration in everyday procurement processes.  Learn how to mitigate those risks from peers in the MUSH sector and cyber security experts. 
Choose to join us online in ZOOM, or in-person at the Living Arts Center in Mississauga.  The last half hour of the event will be for networking and for those at the live location, hot hor d'oeuvres and refreshments will be served during the networking.
This ticket is non-refundable unless the event is cancelled by Supply Chain Canada Ontario Institute. In-person ticket includes hot hors d'oeuvres and refreshments during the networking, following the panel discussion.
AGENDA
5:00 pm – Panel
5:45 pm – Q&A
6:00 pm – Networking
SPEAKERS
PROCUREMENT CATEGORY SPECIALISTCITY OF VAUGHAN
Panelist
DEBBY SHAPERO PROPP, LL.B., CSCMP
LAWYER AND SCMAO INSTRUCTORDEBBY SHAPERO PROPP, LAW OFFICE
Panelist
MITCH KELSEY
CYBER SECURITY ADVISORCDW
Panelist
JOHN MACDONALD
MANAGER, LOSS MANAGEMENT AND INSURANCE SERVICESREGION OF PEEL
Panelist
ROBIN GALLO, CSCMP
SUPERVISOR OF PURCHASINGTOWN OF INNISFIL
Moderator